April 27th, 2015
Well I just got back from a photography workshop in the Adirondack Mountains in Upstate NY yesterday. It was my first time for a multi-day workshop and I have to say, it was a blast. We were up and out everyday at about 4:30 am to try to catch a sunrise, then off to several locations during the day and finishing up trying to catch a sunset. The title of the workshop was Adirondack Steams and Waterfalls Tour and was led by local nature photographer Tom Dwyer, https://www.tomdwyerphoto.com. We experienced pretty much every type of weather possible from brisk, cold windy conditions, to very hard snowfall, light rain, then sunshine and moderate temperatures. There were just three us on the trip along with Tom and we got along great. We were based out of Long Lake, NY and travelled around that immediate area as well beyond Lake Placid, NY, to Lake Abanake, to Buttermilk Falls and the Wilmington Flume. All in all it was a great trip and I wouldn't hesitate to join one of Tom's tours again in the future. We saw some amazing waterfalls with a tremendous amount of water flow, one of the most photogenic streams I have ever been able to photograph and some wonderful mountain views. The image I have attached in one of about 1500 that I captured over the course of five days of photographing the area. There will certainly be more to come as I process the photos! Hope you enjoy and don't forget to check out my website!
March 14th, 2015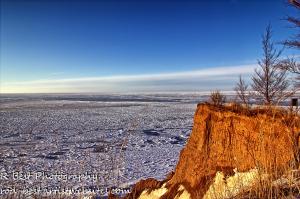 The other day, on kind of the spur of the moment, I decided I needed to go out to catch a sunset. We had just set the clocks forward for DST and I was at work with the sun shining very brightly all day long. So I decided I would have enough time to go home, walk the dog, change clothes, grab my gear and travel about 45 min to a NY State Park called Chimney Bluffs on Lake Ontario. The bluffs are huge spires of rock, dirt and clay along the lake shore. There is a trail along the lake shore below the bluffs and there is also a bluff trail along the top side of the bluffs. It was my first trip out there, so I quickly looked it over and decided to go up top. Once up there I set up, then moved, then moved again and then moved back to the second spot. Anyway, I digress, my goal was to capture a spectacular sunset, which I did get some sunset shots, but the sun just wasn't exactly where I wanted it and I didn't see anywhere I could move to that would give me that vantage point. But in looking around I took some shots with the sun at my back, and actually, I think I like these better than the sunsets I got. What I like about this photograph is that it has a nice warm feel from the sun shine on the bluff face, to the cool contrasting feel of the ice and snow covering Lake Ontario below along with a superbly blue sky that is somewhat enhanced with a polarizing filter. Anyway I have attached my favorite of the ones I got that day and I think I will be back again to see what I can get. Enjoy!!
February 17th, 2015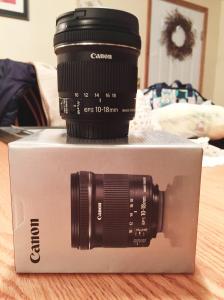 Well, I picked up a new lens today. I have been renting/trying out some ultra wide angle lenses to see what one I might want to purchase. First I rented the Tamron 10-24mm f3.5/4.5 and I was not impressed, or at least with the one I rented. The autofocus was noisy and relatively slow, escpecially when used shooting a sunset. In fact, as the sun was setting it was having a good deal of difficulty locking in focus at all. Then I rented a Canon 10-22mm f3.5/4.5 I found it more to my liking than the Tamron. The focus was quieter and seemed to lock on faster. I couldn't find a Canon 10-18mm f4.5/5.6 to rent so I had to rely on internet reviews. After doing a decent amount of research and reading several reviews comparing all of the lenses to one another I decided to get the 10-18mm lens. The extra 4mm in length and slightly faster Canon 10-22mm just didn't seem worth another $200.00 or so, at least to me. Most of my shooting is done on a tripod anyway, plus this is the only one of the three that has any image stablization. Plus all the reviews I read indicated that this lens had much less chromatic abberation than all of the rest of them and that included the Tokina 11-16mm lens. I also have a fellow photographer friend who has this lens and he loves it. So using all of this as a basis is how I came to the conclusion to get the 10-18mm lens. Can't wait to get out there and shoot some with it!! Good shooting everyone!
January 28th, 2015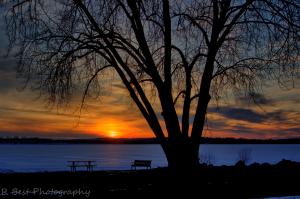 Well I posted my first sunsets on FAA. I've taken plenty of them, but never really thought much of them. This weekend a photo buddy and I headed out to shoot a covered bridge and some frozen waterfalls, which went very well. There was a light snow for part of the day and then some bright sunshine as we were getting ready to head home. After I got my car and was making the last leg of the journey I was passing near lake that would offer some decent views of the setting sun, so I decided to stop and see what I could get. I bracketed my shots for hdr purposes and grabbed several shots using different angles as the sun set. I settled on a couple sunset shots, both silhouetting some trees in the foreground, then purposely under exposed to accent the deep rich colors in the sky and silhouette the trees. You can check out the sunsets along with some of the other shots from this weekend by clicking on the link to my web page above. Enjoy!
January 10th, 2015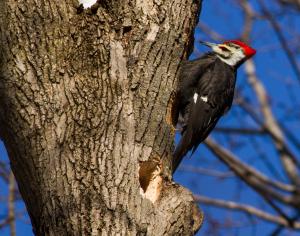 Today was a wonderfully sunny cold day in Upstate NY with an incredibly blue sky. So I headed out to the local nature center to see if I could find some more whitetail deer out and about. I went back to where I had found them before, but didn't see a thing, so I headed over to another trail where they have been known to hang out in the past when I heard this pecking sound from down another trail. So I decided to go see what was up and as I got closer I started scanning the trees, which is when I found the beautiful pileated woodpecker just pounding away on a tree looking for breakfast. I had only seen photographs of these woodpeckers before and I was surprised at how large she was. She had to be anywhere from 12" - 16" in height and had created a couple good sized holes in the tree she was working on. I loved her colors, especially against the sky which was incredibly blue today. So after I had taken numerous shots of her and she had flown away I had kind of given up on the deer. So I headed down another trail looking for an elusive Saw-Whet Owl, but nothing, though I did find the deer. There were about seven of them down in a bog area where it was difficult to get any good shots of them. But all in all, in was a great hike today, seven deer, a pileated woodpecker and I also found a smaller yellow bellied woodpecker before I saw the deer. I was starting to think this was the day of the woodpecker! Keep on Shooting!!
January 4th, 2015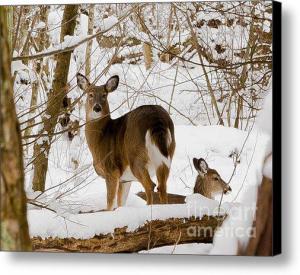 Yesterday I spent the morning out at Beaver Lake Nature Center, in Upstate NY, that is not terribly far from my house. My plan was to hike around the trails to see if I could find any wildlife to photograph. Though I have to say I have never really had great luck seeing wildlife out there, besides crows and geese and one time two deer. I did also see a saw-whet owl last winter, but as luck would have it, no camera in hand. I know other people that go out there regularly and tell me that see all kinds of wildlife on a regular basis, I just haven't been one of them. So I decided to just make my hike slow and deliberate, stopping to listen frequently. I also decided that I wasn't going to carry my backpack full of lenses, I would pick one lens and take my tripod. Thinking (it was very overcast) that if I saw any deer, they would probably be fleeting, so I opted for my shorter focal length lens, but faster (Tamron 28-75mm f2.8) and left my Canon 70-300mm f4-5.6 lens in the car. So I start off, hiking the Deep Woods trail and am not seeing anything, so I am grabbing pictures of the snow on the trees, some color shots of trees with dead, yet colorful, leaves on them covered in snow. I am finding all kinds of deer tracks, but so far no deer when I am about half through the 1.4 mi trail, I spot two deer off to my left, bedded down. They spotted me too and weren't terribly far away, but far enough that I couldn't fill the frame with them at my maximum focal length. I already had my camera mounted on the tripod, so I went about opening up the tripod and started shooting. As I was taking the photos I was mentally kicking myself in the rear for not having the longer lens with me, because I certainly could have changed lenses and they would not have minded at all. The deer were so laid back, that the mother stood up, watched me, then went about lifting this leg, then that one to groom herself. The shot I added to this blog is the one I like the best, so after shooting numerous photos of them I continued on my hike. When I got back to the car, I grabbed my back pack, changed lenses, but took everything with me and headed out on another trail where a saw-whet owl has been known to hang out, but found nothing, nil, nada!! I hiked one more trail and skunked again!! I learned a lesson though, which was not to anticipate what one will find out on the trail, so be prepared. I'm happy with the shot I got, but I had to crop the crap out of it to get it to where I wanted it to be! Oh well, live and learn. Til next time, Happy Shooting!
December 31st, 2014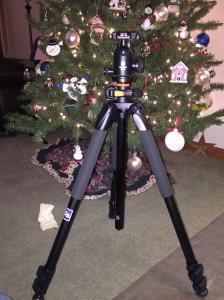 So, I used some Christmas money to get a new tripod, that was really needed. The old one, which I've had for probably 15 yrs, was an inexpensive Quantaray that served its purpose, but was far from heavy duty and currently had one leg held open by duct tape. My goal was to get a decent, heavy duty (or at least more so than the old one) tripod for under $200.00. Started doing some research on the internet and reading about aluminum versus carbon fiber, etc. Anyway, I read a pretty good review about the one I ended up buying, an aluminum VanGuard Alta Pro 263AT with a VanGuard SBH-100 ball head. I was able to keep the cost just under my $200.00 goal for both the tripod and head. Haven't had a chance to field test it yet, but played around the house with it a little and it has some cool features that my old tripod did not. The old one, the center post went up and down, plus had a pan handle (which I hated). The other thing was that the legs were tethered to one another. The new one, the legs are independent of each other and can splay to three different angles, the center post goes up and down, pulls completely out (to put in upside down, I think) and it also allows the center post to rotate to a horizontal position, so you can get your tripod mounted camera to probably within 10" of the ground, which could come in handy for those low angle shots! It also has a retractable hook in the center post to help with stability. Hoping to get out there and give this new tripod a workout this weekend or maybe even tomorrow!!
December 29th, 2014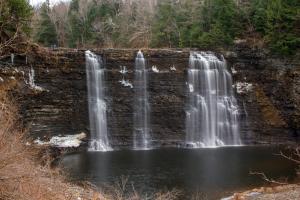 Took a road trip this past Saturday up north to the Salmon River Falls Unique Area to get some shots of the falls. Took me about an hour to drive up there following Rte 3 along the lakeshore, then cutting through the Village of Pulaski and ending in Orwell. Actually I found quite a few more people out at the falls than I had anticipated, but by no means crowded. I am sure this was due to the fact that it was a very warm December day, about 45 degrees. Got some photos from the overlook and along the trail beside the falls and gorge. The falls themselves are good sized at 110 feet with three separate plumes of water cascading over the falls to the gorge below. I then ventured down the gorge trail to a switchback that gave a good view of the falls and the collection pool below them. I set up next to another photographer and as we were shooting, we began chatting and continued to talk about photography for about 45 min. until we both we ready to leave as the sun was setting fast. His name is Dewey Neild, http://www.deweyneild.com/, and I found that he publishes a waterfall calendar every year which is why he was out shooting. Primarily he is a wedding photographer, but then about 12 or 13 years ago he started this waterfall calendar and now it has become a big hit. Check out his website from the link above. I will certainly have to check this area out again, if not sooner, then definitely next fall during foliage season.


December 24th, 2014
I thought I wasn't going to write another blog before the Christmas Holiday, but just had to get this out there. I ordered some 2015 wall calendars from Vistaprint for a craft show I am doing in January and they arrived at my house today. I looked at one and was mostly looking at the photographs which were all fine, so then I gave one to my wife to look at. She immediately saw a spelling error on one of the photos titles, then she found a second. Figuring I had screwed up with proofing the order I was not happy with myself and was thinking the company would just say it was on me for not proofing better. So I decided to go online anyway and contact customer service, hoping to plead my case as a new entrepreneur and a new customer. I was very pleased with their response (Live Chat on Christmas Eve, no less) as I explained the spelling errors I had found. The CSA I was dealing with said she had corrected the errors and would get the items re-ordered, at no cost to myself. No having to beg and plead for them to do something, they just did it matter of factly. Absolutely A+++ service and I will definitely do business with Vistaprint again in the future. They have definitely made me a customer for the future!! Hats off to Vistaprint for going above and beyond, in my opinion.